100% Certified Organic Vanilla Extracts
Featuring vanilla extracts Certified Organic by Ecocert ICO
Amadeus supplies our own, Private-Label single fold and double fold vanilla extracts manufactured to our strict quality standards. Our certified organic pure vanilla extracts contain only vanilla bean extractives, alcohol and water -- no sweetening agents whatsoever are added. All organic vanilla products are Certified Organic by Ecocert ICO.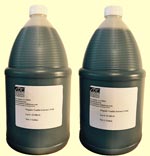 Buy Vanilla Extracts
Refer to our Frequently Asked Questions (FAQ's) page for
information on how to properly store your vanilla extract
and the difference between single-fold and double-fold extract.
What Does Certified Organic Mean?
Certified Organic means that a non-profit, state or private certification organization, accredited by the United States Department Of Agriculture (USDA), has verified that products labeled as organic meet strictly defined organic standards. Our organic products are certified by Ecocert ICO, which also meets international (IFOAM) standards of organic accreditation.
Contact us for volume purchases, contracts, and long term commitments.
Store Entrance | UGANDA GOLDTM Vanilla Beans | Madagascar Vanilla Beans
Organic Gourmet Beans | Extract Beans
Indonesia Vanilla Beans | PNG Vanilla Beans
Tahitian Vanilla Beans | India Vanilla Beans | Pure Ground Vanilla
Organic Vanilla Extract 1X | Organic Vanilla Extract 2X
One Stop Shopping for Amadeus Vanilla Products | Home
Amadeus Vanilla Beans
7482 Denrock Avenue ~ Los Angeles, CA 90045-1022 ~ USA
310-670-9731 ~ Email
© 2018 Amadeus Trading Co. All rights reserved.
All trademarks and servicemarks are the properties of their respective owners.