Here Is What Our Customers Are Saying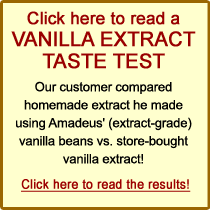 "Thanks Glenn, I will go ahead then. This method of making vanilla extract elevates my cooking! Great in a fruit salad and gives baked products that extra kick of flavor. Your beans are divine, fragrant, and exactly what I am looking for. And I am a self-acknowledged "vanilla snob"! Thank you,
- R. Aresty - Mamaroneck, NY
"I would just like to tell you how grateful I am for your business! I have been making my own vanilla extracts for 6 years now- since I found you! I love to give out small bottles as gifts to friends or even the occasional mailwoman or handyman. My policy is that I promise free refills if they ever need. If I was having to buy (old) vanilla 2 beans for $15 at the grocery store like I used to, this act of kindness would've never been possible. Thank you for offering the very freshest and most flavorful vanilla beans at the best prices anywhere! You will have my business, and many of my referrals for many years to come. Sincerely,"
- C. Ellsworth - Lompoc, CA
"LOVED last order, absolutely top quality!"
- R. Burden - Haiku, HI
"My desserts stood out with fragrance and aroma that I never achieved with any other vanilla. The bouquet of Uganda Gold compared to other beans is like having a solo vs a full blown symphony. I'm now a faithful customer of Uganda Gold."
- N. Dong - Vancouver, WA
"I wanted to let you know that I am very happy with my purchase. I'm usually skeptical about buying vanilla beans because most of the beans I have ordered from other places were very expensive, dried out looking, & didn't smell like vanilla at all. When I opened the package I bought from Amadeus the smell was incredible! The beans looked fresh, moist but not wet or soggy, The beans are wonderful. Thank you for putting quality first!"
- T. Sovereign - So. Chicago Heights, IL
"I prefer your superior grade and flavor for my vanilla products. They are lovely beans. Thank you,"
- L. Love - Fairbanks, AK
"The Uganda Gold Vanilla is heavenly, undoubtedly the best I've ever come across."
- M. Keller - Asheville, NC
"I make some of the best extract with your beans that all friends and family ask for."
- D. Dorn - Inwood, WV
"Your beans rock!!! (: "
- L. Stevens - Welaka, FL
"I received my order today and I just wanted to let you know that I am once again blown away by the premium quality of your vanilla beans, they are simply stunning! I'm embarrassed to admit that I have purchased vanilla beans from a well-known supplier here . . . [name omitted] on a couple of occasions as a way to support my local economy and also to save money on shipping costs, and, without fail, I've always ended up feeling underwhelmed, disappointed and outright annoyed for being sold anemic, shriveled up, flavorless old beans! Your beans, however, are always so plump, fragrant, pliable and moist; they put all others to shame! I'm so impressed with the outstanding quality and service that I receive from your company that I will happily pay more in shipping costs just so I can be assured I'll be receiving quality vanilla! I promise I will not stray again, you can consider me a happy and loyal customer!
Thanking you sincerely,
- L. Windel - Ionia, MI
"I've been using y'all as my primary supplier for years, and have gotten the best beans from you guys. It's a pleasure working with your company. Peace to you and yours."
- A. Smith - Moultrie, GA
"You guys are great, and your luscious vanilla beans are the best!! Thanks again!!"
- K. Soraci - I Scream Cakes - St. Louis, MO
"Glenn provides superior customer service, and the vanilla he offers is of excellent quality. It's an honor to give Glenn my business. It's his organic vanilla that puts the WOW! in the nutritious recipes I create. Thanks Glenn! I'm ecstatic to have found your company.
- D. Wawrzyniak-Marshall, Austin, TX
(Author, "Recipes That WOW!")
"I have ordered Bourbon Vanilla Beans from you as I have need[ed] them and they are so much better than the ones I have ordered from other web sites. I will never order Vanilla Beans from any other site again. You are my one and only. Now to get myself some of those Uganda Gold Vanilla Beans! : )"
- Sally K. - Hendersonville, NC
"You are the absolute best!! Thank you very much for the very quick reply - on a Sunday!! Your passion for your products is so evident! Gratefully,"
- Vicky T. - Marion, MA
"Your vanilla is so so wonderful, and my recipes would not be the same without it☺ Thanks for offering such a superior product!
My Hazelnut Chocolate Chip Cake…featuring your vanilla
and… I use your most delicious vanilla to make my:
Caramel Apple Pie
Creamy Dreamy Nog
Crumb Coffee Cake
…and so many more!
Glenn, I really appreciate your help with my vanilla order. I look very forward to receiving [it]☺
…and my Hubby thanks you too ☺
- Diane M. - Round Rock, TX
"We have ordered from you in the past and were extremely happy with the beans. Thanks! Will"
- William H. - Texas, USA
"Super impressed with your company. I spoke to you on the phone, and got excellent information, and received your personal email. I'm a hairdresser and when I like a company, ALL of my clients hear about it. They all trust my recommendations. Looking forward to getting my beans, the final step!"
- Decia B. - Monrovia, CA
"Dear Glenn, Thank you so much! I just placed an order. These beans make the BEST vanilla ice cream, pudding and extract. Namaste,"
- Hermineh M. - Reston, VA
"I just received the package. Everything looks great and the bean quality is definitely much better than what is offered locally. . . . I'm definitely interested in promoting unique vanilla beans in Singapore. Thank you very much for your help."
- JR Wong - Singapore
"I have bought from you before and was happy with [your] service."
- Billie - Gig Harbor, WA
"Your beans arrived and I've already started making vanilla. These seem to be an excellent batch, even overnight they are starting to darken the vodka nicely. Thank you very much! Very glad I waited for your vanilla beans! Best wishes for the New Year,"
- Rebecca W. - Cooperstown, NY
"The organic 2x is my absolute favorite extract!!!! I am in love with [it]! I bake a lot for friends and family and your amazing vanilla has become the staple in all my recipes! People always ask me how do I achieve such rich distinctive flavors! I owe it all to the vanilla extract! . . . Nothing compares to its amazing flavor . . . none of my baking . . . taste[s] the same without it!!!!!!!! . . . Thank you again!!!
- Kimberely O. - Wenatchee, WA
"I would love to be added to your mailing list. I ordered from you last year and love your product."
- Karen H. - Kearney MO
"Just wanted to say thank you for the great vanilla beans! Sincerely,
- Monica D. - Oak Harbor, WA
"I have been an occasional customer for several years now - I really love your organic vanilla beans!"
- Deirdre D. - Schenectady, NY
"The best beans I have seen!"
- Ann J. - Dundee, MI
"Just wanted you to know that I am thrilled with your service. I ordered the beans on Thursday evening and they arrived in the mail on Saturday! I sent my husband out to buy some vodka and can't wait to try your recipe."
- Rita M. - Santa Clarita, CA
"The beans have landed, thank you so much. They are the best beans I have ever found!"
- Lyle G. - Toronto, ON, Canada
"[W]e have shopped with you for years and this why - excellent service. . . . Thank you for your great customer service, communications and dedication to excellence in what you are doing."
- Tom H. - Akron, OH
"Just want to thank you for the BEST vanilla beans I've seen. Worth every penny. I have been making my own vanilla with your beans for sometime now and it has been wonderful. Friends love it so I pass the word where the beans come from. Again thank you."
- Michelle S. - Charlton, MA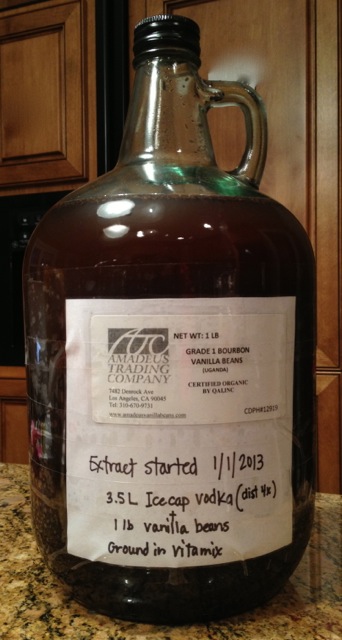 "Your beans are part of my New Year's Day tradition.
I started my extract for Christmas 2013 gifts.
The extract from 2012 (aged 12 months) was SUBLIME.

"Cheers!"
- Michelle K. - Berwyn, PA

(Click photo at right to enlarge.)

"Way cold here. Thank heavens for a woodstove and a serious whiskey sour! >grin< and, of course, coooookies! Your vanilla extract has been a big hit; folks who sniff it will buy the bottle from me right away! [I resell in smaller bottles, I think they are 2 oz bottles]. It's so nice to be able to have Really Good 'Nilla!"
- Jane S. - Haddam, CT
"Thanks very much for the wonderful vanilla. It was fun to get and we are using it in all sorts of recipes."
- Trish C. - Sarratoga, CA
"Always love the beans! I'll be getting more later this year."
- Roger B. - Grand Rapids, MI
"Thanks so much 'cause your Madagascar beans are the best on the internet!
"All good wishes,"
- Paula G. - Coatesville, PA
"I make my own vanilla extract and have finally used up the Madagascar Beans I bought from your company a long time ago. I would like to order a 1/4 LB of the organic Uganda Gold Beans for my extract. . . . Your beans are so far the most superior quality I have found for my baking needs. Thanks and keep up the quality of your products."
- Cheryl K. - Los Angeles, CA
"[T]he vanilla for my sisters Christmas gifts turned out great. The vanilla beans you sent me made awesome vanilla. I have told all who would listen how good the service from your company was and now I can tell them what good quality the beans are. Thank You so much."
- Jeanne M. - Joshua Tree, CA
"Did I send you a mail?
"I've got the products.
"Thank you for sending exactelly [sic].
"I'm using well.
"Have a good day."
- Kim L. - Jeonbuk, Korea
"Thank you so much for all your help, I have been very impressed so far with your company's pricing and customer service! You've certainly earned a loyal customer here!"
- Jen DeB. - Sauk Rapids, MN
"Just a quick response. You're awesome and I can smile now! Thanks again. :)"
- Kelly C. - Marysville, WA
"Received my order yesterday. Couldn't be happier with the quality and service. I've already made 26 bottles of vanilla extract for Christmas gifts. Thank you so much! I will definitely order again!"
- Wendy M. - Goffstown, NH
"That was amazing! Truly appreciate the time you took explaining, we had just talked about poor customer service, everyone else should take notice! I will definitely get in touch when I am going to get now more what I need."
- Mattias B. - Santa Barbara, CA
"Thank you for having superior customer service!"
- Daniel L., Mother Earth Brew Co. - Carlsbad, CA
"Thank you again for your help in getting me the Vanilla Beans. You were right, the beans were awesome and everyone loved them. I will definitely be ordering more from you soon, only not a rush order this time ;-)"
- Al A. - San Jose, CA
"I am very grateful to have found your company, I am absolutely addicted to the homemade extract made from your beans. It beats the pants off anything you can buy in the store, because the quality of your product is impeccable. Thanks again for your help and keep up the good work."
- Jesse W. - Monroe, WI
"We received our first consignment from your company last week. We are very pleased with our beans. In fact they were much better than what we had received from another supplier in the past. Your shipment to us was more moist and had a slightly bolder flavor.

"Thank you,
"We are satisfied customers,"
- Andrew G., for Coleen's Kitchen - Mountain Home, AR
"Thanks for your response. I will recommend this site to all my friends. Thanks so much."
- Denise R. - Coopersburg, PA
"Thanks so much. Great customer service."
- Kathy B. - Harleysville, PA
"I wanted to thank you for taking the time to respond to my call and address the delayed delivery. I really appreciate the care you took to make the order work for me. It is incredibly refreshing to do business with a "stand-up guy". You can be assured we will be ordering from you in the future."
- Kathy FH. - Auburn, CA
"Thank you very much for passing along your organic summary plan. You have been so helpful through every interaction I have had with you. I just wanted to thank you for being so prompt, responsive, and helpful."
- Michelle C. - San Anselmo, CA
"Thank you for your timely responses. . . . I am a chef by profession. However, even though I am an expert at what to do with these wonderful beans, I am not an expert on different "conditions" that can and do take place. . . . I will hope that all is well and the only thing you'll hear back from me for is to place another order. I apologize that sometimes I cannot respond expeditiously. But, I am a cross country chef for Amtrak and do not always have internet service readily available. Thank you very much!"
- Sara T. - Amtrack, USA
"I got my order of Extraction Grade 1 Bourbon vanilla beans through my aunt from New York. The beans are still moist, considering she shipped it from NY to the Philippines. I just made them into vanilla extract and my entire house smells sooo good. I love the quality of your beans. They are very different (and cheaper, too) from the ones that are available here. The scent is powerful. I snipped half an inch off the tip of one bean and placed it in my sugar container. The sugar was able to absorb the flavor with that little piece."
- Kathy - Philippines
"I got my shipment of the vanilla, and I love it they are very good and moist Thank you!. I'm in love with them..soon I'll be placing another order."
- Sabiilaa S. - Karachi, Pakistan
"I want to thank you for your attention to customer needs and for helping me save a bit. This is really good customer service and I appreciate it. I'm running a small internet-based biz nowadays and I do this for my customers when I can too. As a repeat customer (you may remember me as the guy you shipped to in S. Korea) I'll always shop with you because you guys take good care of me. Thanks!"
- Ted
"I first bought 2 kinds of your vanilla beans about last January. I tried several companies at the same time so I could see their product and make up my own mind. Your were superior in every respect, size of the bean (I wanted the larger ones), freshness, moisture and in every way yours were the best. I intend to only buy my vanilla beans, etc. from your company."
- Pauline
"A lot of time passed but i still want to thank you for wonderful vanilla beans! They are awesome!"
- Tatyana - Moscow, Russia
"I have ordered from you before & love, love your beans, no others out there can beat yours. (I just bottled my second batch of 2 fold vanilla for gifts from your beans...think I will add some whole beans to my gift baskets for Christmas, so all my friends can experience those wonderful aromas!)"
- Carolyn
"I opened all of my little vacuum packs and they all smell like wonderful vanilla. Thanks so much for the great customer service, it's a rarity these days."
- Denise
"Thank you so much for all your helpful info and attention. I spoke with [your assistant] and fixed my order. I'm giving your extraction vanilla beans a try. If they are anything like your customer service, they will be excellent!!!"
- Candace
"I recently ordered 1/2 lb of extract grade vanilla beans after spending some time on the VanillaReview site. My beans arrived in 3 short business days. The aroma was intoxicating, the beans were beautiful. I now have two jars of beans steeping in vodka with hopes to give the best extract EVER to my friends and family. This is my first attempt at homemade extract."
- Cristy (www.a-cristy-craft.blogspot.com)
"I just want you to know that the vanilla beans I ordered are just wonderful! I am so happy with them. I am new to the fresh vanilla bean world so I have been learning a lot from your website. I will definitely be buying more. "
- Sandra
"My order arrived faster than anticipated and was happily resting in a bottle of Kirkland Vodka before Santa came. As always, great product. We gave away over a dozen bottles of two-fold vanilla that had been maturing for a little over 10 months this year and I forgot to save some for me! "
- Karen
"I received my order in a timely manner. . . .It is refreshing to experience true customer service again. I will shop with your company again."
- Stephanie
"I just received my first order from Amadeus Trading this morning when I got to work (US. Postal Service worked perfectly). There was a nice smell of vanilla in the entire office :-)
"A first impression is that the vanilla beans are SO much better than the ones I usually buy at the supermarket. And, I got two new dessert-cook-books for Christmas and now cannot wait to try out the vanilla beans and my new books."
- Dorte Koch - Denmark
"I just wanted to let you know that i received my vanilla order yesterday and WOW, these vanilla pods are amazing. Uniform, huge, and the most amount of vanilla caviar I've ever seen.
"Thanks again, and you'll be hearing from me when i need to restock, which may be sooner than I think unless i can keep my culinary friends paws off of them."
- Andrew
"Thank you so very much for the quick . . ., personal response! Thank you for imparting your knowledge and enthusiasm of and for the vanilla beans! I currently have 1.75 liters of extract "brewing" and it is already dark with a wonderful vanilla aroma (my kitchen smells wonderful too; my hands did too, but alas, I had to wash them!).
"Thank you again! Have a wonderful day!!"
- Tina
"Just wanted to tell you that I tested a bit of the vanilla that I started not even 2 weeks ago and it is amazingly flavorful! I almost think we'll want to cut it in half for recipes!"
- Kristi
"Thank you very much for your prompt response. It was appreciated. I have recommended your company to a number of relatives and friends . The Quality of your product and service is first rate!"
- Patrick
"Got the vanilla...could luxuriate in the aroma 6 feet away from the box!!!!!! Thanks."
- Lynne
"Everything you say about your vanilla beans is absolutely correct. Having bought from ------- I could see the difference at a glance. My ice cream is outstanding, it will be served tomorrow afternoon."
- Emanuel
"I received my gallon of vanilla extract today and am headed towards the kitchen to try it out as soon as I send this mail... It smells divine... Thank you so much for your courtesy and kindness and the answers to my questions and information regarding the flavorings, my kitchen awaits me."
- Adila
"I'm so excited with my recent shipment of Uganda Gold . . . . The best beans on earth I have found. Thanks, I have referred others."
- Anne
"Your Ground Extracted beans are wonderful. I have recomended them to friends, including some well known chefs, and they were delighted. I hope you continue to prosper."
- John
"Oh my goodness! I'm so sorry. Thank you for taking care of this for me. All this confusion is completely my fault. Please know that you guys have earned my vanilla business for life and that whenever people ask me about my vanilla extract I direct them to buy from you guys. I love your beans, and now I love love love your customer service."
- Jessica
"Hi, I received the package a couple of days ago. I am really really enjoying the vanilla. Thank you! I've already recommended your business to my friends. Tremendous!"
- Julia
"I ordered beans from you last year. They were FABULOUS!! I just ran out last week and am ordering more.
"I prepare desserts for a volunteer group and they always ask how I get the complex flavors in my desserts. I tell them it's the beans. They ordered from other, cheaper vendors, with less than desirable results. Your beans simply out performed the others.
"Great product. You have a life time customer."
- Tim - Pine Bluff, AZ
"I thank you so much for your quick response. That is unusual customer service these days.
"I was so excited to make my first purchase of vanilla beans and although it isn't much money to your company, it was an investment I worked on for a long time. I did a bit of research on companies out there and understand yours is one of the best."
- Debbie
"I recently purchased 1/4 lb of Uganda Gold Super Premium Long & 1/2 lb of Madagascar Super Long from your company. The quality is exceptional!! What I want to do is make vanilla extract, bottle it and include it as part of my Christmas present baskets."
- Sandra - Westmorland, CA
"I did receive my order and I really appreciate your time and follow-up. You are truly amazing to work with, I will spread the word. I am making vanilla as part of a basket for Christmas gifts and your website will be included. Thanks again for all of your help."
- Lou
"Thanks for the great vanilla! We are returning customers - we bought a pound a couple of years or so ago of the Uganda Gold. Great! I am interested in buying a couple more pounds and dividing it up in 5 beans or so for a holiday fund raiser.
"Peace - you have the best products!!!!"
- JM
"I was completely bowled over when the Vanilla arrived a week or so after I placed the order. The glossy, plump brown pods were bubble-wrapped and delivered in a fairly large box and the fragrance - wow. Warm, heady, earthy, tropical......I was excited beyond words. Just holding a pod in my hands and feeling the thickness made me feel it was worth it, even if it worked out more expensive.... but it didn't. I had to do a comparison between my local and what I got online."
Click here to read the full review on kitchenbutterfly.com
- Ozoz
"I picked up my vanilla today and the pure smell of it is almost overwhelming. I look forward to using all of it. There are going to definitely be others who want some I can tell you now. This stuff is fantastic. I am delighted to have it. Thanks!"
- Raymond
"I want to express my gratitude and respect for a succesful delivery of the vanilla beans i have ordered , the aroma is wonderful. Thank you very much."
- Victor
"The (Uganda Gold) vanilla beans arrived on Wednesday. Beautiful. The aroma came from the box at 4 feet away before opening. Thank you!"
- Barbara - Ashland, OR
"My order arrived yesterday and I just wanted to say thanks for the great service and prompt delivery. Lovely, beautiful beans arrived quicker than I expected and frankly, I can't wait to start playing around with them. I appreciate your willingness to handle out of country purchases and special delivery needs. Thanks again!"
- Ted - South Korea
"I wrote you last fall in regard to making my own vanilla extract. I made the first batch as Christmas gifts with huge success. All recipients were delighted. My wife has informed me that she will no longer be buying vanilla extract, from now on I am to make it. Thanks again for all your help and assistance. It was a huge success!"
- Nathan - Sparks, NV
"Just got [my vanilla beans] today. My mailbox never ever smelled that good! Neither has my mail - you put the perfume samples in magazines to shame. The smell was so intoxicating, I had to try one and it was rich and intense. My living room smells divine! Can't wait to make some vanilla, some baked goods ad some vanilla sugar, possibly some ice cream too. Thank you!"
- Stefanie
"Couldn't be happier, nor those I work with. After four hours our office was pleasantly fragrant. The two women there were amazed at the quality and price, our marine gunny asked for a couple for his cigar humidor, the RSO took one and shaved bits into his morning oatmeal. Me, I just wanted it for extract... now cooking in a bottle of vodka - the company is happy. Thanks again."
- Mark
"I've been busy making loads of gifts with the vanilla - vanilla oils, vanilla vinegar, vanilla brown sugar, extract....... and later today vanilla salt! Why have I gone with your company - honesty. I have read various sections on your website that talk about how some of the beans are not so pretty (for making the extracts) but then you go on to explain you get more for less and still the quality is good . . . . I buy, or shall I say now - used to buy - vanilla from a grocery shop. You won't believe the difference and it works out even more expensive for me to continue at the grocery shop compared with having you send it to me here [to The Netherlands]. I'm in the process of starting a food blog and I'll definitely be showcasing some of my Amadeus vanilla - with joy. . . .Thanks and you have one satisfied customer.
- Ozoz - The Netherlands
"I am going to give vanilla sugar as gifts for Christmas. . . I just used my homemade vanilla extract this weekend. The cookies literally disappeared before my eyes! I'd say the extract turned out ok?!"
- Lynda
"I have received my vanilla beans and so far, my home made extracts look gorgeous (all three liters of them) and my husband is noting that I smell perennially of vanilla now :). My mom would be very happy to receive some of the extract grade beans for Christmas. Thank you for the great service and prompt shipping.

"Maraming salamat (Thank you very much in Filipino)."
- Rona
"Hello Sir, just received those beans. Incredible aroma real nice, thanks. I went online because I can't get vanilla beans; except those horrible grocery store vanilla beans in the spice isle. Nice to experience good customer service for a change too."
- Daniel
"I want to tell you that I am impressed with your service. I got emails and calls to confirm all the details about the order, shipping address, etc. are correct no matter how big or small the order is. Keep up the good work and I am really glad I found your website."
- Raymund
"Thanks so much for the prompt, professional service. Can't wait to throw these puppies in some vodka, and then sit back and wait to enjoy. Really appreciate all of your help, answers, and service. Hope to place an order again soon. They smell so good!"
- Kelly
"The only problem I had [with my order] was the UPS driver. [He] is a friend, [and] did not want to take it off the truck because it smelled so good. I have already used it for my Biscotti and plan on using some tonight for a batch of Vanilla ice cream. I am very happy with it. What a difference from the beans you buy in the store. I will be buying more from you and have also given your website address to some friends."
- Kim - Post Falls, ID
"Thank you very much for the GREAT service. I received the beans and started making vanilla last night. Next month I will be starting on ten bottles for Christmas presents. I'll be buying the beans from you because of your great customer service."
- Dave - Sacramento, CA
"I had gotten some of your Organic Vanilla Extract some time ago, the quart we got then, has done us well. . . It is a fantastic product, . . . and we really love it."
- Fred
"I bake as a hobby and your site came highly recommended by a chocolatier I met in Oregon. When I went to the Amadeus website, the variety of vanilla products and of course, the pricing, were all very appealing. I am very impressed with your excellent customer service in responding to my inquiry, in a time when so many companies just don't seem to care that much about maintaining customer satisfaction.

"I received my shipment on Friday and couldn't believe how fresh and wonderfully aromatic the beans are. I plan to make some vanilla ice cream within the next few days and I can hardly wait to taste the finished product."
- Marilyn
"I have started lots of extract from my first batch of beans and was really impressed by the quality of the beans not to mention the price...I look forward to doing business with you. You've found another lifetime customer. I imagine that happens frequently!!"
- Art - Austin, TX
"I am absolutely fascinated with the level of service that I have gotten. Thank you so very much. This type of service will keep me coming back."
- Cheryl
"Just wanted to thank you so much for all the help you've given me for this (small) transaction. The beans arrived unscathed (so very well packed!) today. What a treat to the olfactories! I can't wait to make the vanilla extract. I'm sure it will be finer than any of those available commercially."
- Debra
"This is 'the' place to buy Uganda Planifolia vanilla beans. Their sampler pack is a great way to start your extract collection."
- Ian (www.instructables.com)
Read more feedback from Ian here
"Thank you for your outstanding customer service. I appreciate that my e-mails were answered promptly and my questions answered. I'll be sure to come back and do business with you again!"
- Briana - Hot Springs, AR
"I just wanted you to know how great the vanilla beans I bought from you are. I made 3 quarts of vanilla extract with them and cannot wait until they age to use them....I plan on making 25 half pint bottles for each of my friends for Christmas and will be ordering more beans."
- Judy
"I am so pleased with the Uganda Gold that I am ordering some for a friend in honor of her birthday. Being from the hot climate of Houston, of course, I have made Vanilla ice cream from "scratch" using the Uganda Gold Beans (and lots of them) and I am constantly besieged by friends and family to make more!!"
- John - Houston, TX
"I just received my order from you in which I'm very pleased so far. Your prices are the best I've seen on the internet and plan on looking to you first in the future."
- James - St. Joseph, MI
"It is reassuring and refreshing to meet a company president who obviously cares so much about his product, and to take the time to discuss it with a new customer, especially one who placed a very tiny order....I will not hesitate to recommend your firm to friends and family who need vanilla products."
- Kristina - San Francisco, CA
"I received my vanilla beans the other day and you have indeed made me a very happy camper. They are beautiful and filled the room with vanilla. I cannot begin to tell you what a pleasure it has been to order from your company. I have never received such great service. I will always order my beans from you and will tell my friends."
- Vanessa - Tillamook, OR
Store Entrance | UGANDA GOLDTM Vanilla Beans | Madagascar Vanilla Beans
Organic Gourmet Beans | Extract Beans
Indonesia Vanilla Beans | PNG Vanilla Beans
Tahitian Vanilla Beans | India Vanilla Beans | Pure Ground Vanilla
Organic Vanilla Extract 1X | Organic Vanilla Extract 2X
One Stop Shopping for Amadeus Vanilla Products | Home
Amadeus Vanilla Beans
7482 Denrock Avenue ~ Los Angeles, CA 90045-1022 ~ USA
310-670-9731 ~ Fax: 310-670-7542 ~ Email
© 2017 Amadeus Trading Co. All rights reserved.
All trademarks and servicemarks are the properties of their respective owners.